At D.H. Roberts Construction of Jonesville our focus is on commercial and industrial steel buildings, serving the Southern Michigan and Northern Indiana and Ohio areas. We are able to offer our customers many options to suit their building needs,  by partnering with Nucor Building Systems. We are proud of the relationships we have created with our customers through professional service and quality products.

See Nucor Building Systems information
Services
D.H. Roberts Construction of Jonesville, has grown to a "design" build contractor, which means we can design your building from concept to completion, as well as acting as the general contractor, able to deliver the project in a turnkey manner.
We are involved in the planning, design, and construction of commercial and industrial facilities. We are also a masonry and steel erector. We also do all phases of concrete work, including poured walls and flatwork. We have also constructed various press and machinery pits, including necessary shoring and dewatering. We install replacement roofs with the Nucor "CFR" Roof System.
Flatwork
Shoring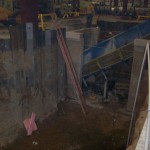 D.H. Roberts Construction of Jonesville is a full service building maintenance company.
Slope build-up roofs
Replace or repair roofs
Replace damaged siding
Replace columns
Install equipment such as chillers, exhaust fans, etc.
Victor Face Enterprise d.b.a.
D. H. Roberts Construction of Jonesville